The history of the Royal Banners of Travancore and Cochin, and the Imperial Durbar of 1877.
Read More
The walls around Kanakakunnu Palace grounds in Thiruvananthapuram have recently been beautified with murals, part of a city-wide project called Arteria (2014-16). Credited as one of the largest public art projects in India, the project includes handpainted murals of the postmodern variety, painted across walls lining many public spaces and institutions in the city. Many of the murals are painted to thematically complement the enclosed space's function. The project initiated in 2014 have had many prominent regional artists involved in its first phase.
The Kanakakunnu walls stand apart from other mural projects as it is the only mural series showcasing the history of the state. Painted by Sreelal, the series depict various popular historical vignettes, from Travancore's inception as a modern state under Marthanda Varma in 1729 to its formative days as a state in postcolonial India during and after the reign of the last king Balarama Varma. What caught my attention was the particularized portrayal of Travancore through highly specific and easily identifiable historical events, that were rendered in an accessible pictorial style in one of the most frequented public spaces of the city.
(Click through the slideshow below for an abbreviated version of the history of Travancore as told by Arteria.)
The mural series brings the disassociated history of Travancore into the daily life of the city dweller in a catchy neo-cubist style. These are quite "legible" for any viewer with a nominal understanding of Travancore's history. Murals, however, are almost facsimiles of popular historical photographs or contemporary painted narratives of Travancore rulers. In other words photographs, paintings, and painted murals that are widely circulated on the internet. See two such comparisons below.
Other mural panels are imaginative renderings of famous historical events such as the attack on Travancore by Tipu Sultan and (unrelated) suicide of Velu Thampi Dalawa.
All but one of these panels display the dates or any other factual details in text form associated with the historical events rendered. Indeed, the chronology of events have only been loosely followed. If you click through the first slideshow, you will notice that the most popular and powerful rulers are placed side by side to trace a genealogy that affords the first king Marthanda Varma and the last king Balarama Varma pride of place in the mural series.
On the walls west of the main entrance to the palace grounds, historiography of Travancore kings gives way to political, cultural, and social accomplishments of colonial Travancore. These include images of architectural edifices, educational institutions, cultural symbols of royal power and more. (See some of them below.)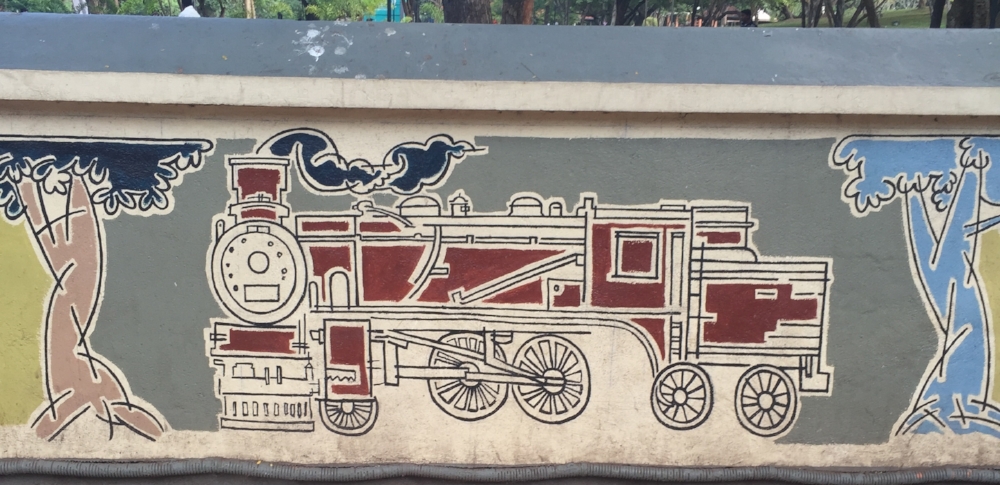 The western walls also show traditional colonial and early postcolonial lives of Keralan/Travancorean people. There is also one snapshot of Mahatma Gandhi and a handful of people in Nehru caps sitting beside a charka--a nod to the independence movement. But besides that vignette, it almost looks as if Kerala (or rather, Travancore) casually and easily slips from kingdom to postcolonial state under the effective guidance of the kings of Travancore. Indeed, no one else of any fame is portrayed in this series.
One could argue that the mural series having been painted outside Kanakakkunnu palace, one of the many palaces belonging to Travancore royal family in the early-twentieth century, mandates such a glorious and exclusive historiography. Yet, it is crucial to ask: What kind of history is the average Keralite in the capital city imbibing from these visual narratives? Why this narrative?
This reproduction of popular historiography--stories that are part of the popular culture of the state--is interesting since it appears to reiterate specific ideas of statehood and Keralan/Travancorean identity. The visuals here, filtered through an ethnic-nationalist lens, reifies the historic identity of the Travancore Malayali as one steeped in princely nostalgia, exhibiting pride over a distinctively Travancorean past.
I visited the Thiruvananthapuram museum complex a couple of days back. Napier Museum (Art Museum) is one of my favorites and I never miss visiting it when I am in the city. I can never get tired of the marvelous ingenuity of Robert Chisolm's design and I would say that he did a huge favor to Maharaja Ayilyam Thirunal and Malayalees by going against the Maharaja's wishes. (For this post, I am ignoring the colonial hegemonic implications of the Chisolm incident, but a short version of it is provided in a comment in my Instagram post seen below. Click on the image for more info.)
Arguably, the building itself is probably the most valuable piece of "artifact" that belongs to this museum. I have hundreds of photographs of the edifice. But, as soon as you go inside, you are warned that photography of museum displays are not permitted. To make the warning stick a veshti-mundu clad lady sternly lets me know that there are cameras everywhere in the museum that will be recording my actions.
I have been to many museums all over India that restrict visitors from photographing museum collections. But why? I don't understand this reticence.
After all, the collections at Napier Museum have no copyright associated with them--most of them have limited metadata, provenance research when conducted are in its very early stages. And most of the collection is from nineteenth century or earlier, except for a few pieces of furniture and Kathakali miniatures. Few of them may even be light-sensitive but as it is, there are no protective enclosures for any of these to mitigate that problem. (There is no HVAC and other moisture control systems either.) So the typical issues because of which museums restrict photography are non-existent.
In her book Participatory Museum, Nina Simon points out the reasons for dissatisfaction of publics with museums and ways for institutions to recover:
All of these points are starkly relevant to Indian museums but above all and unmentioned here, is the lack of a museum-going culture in South Asia. There are no statistics available to provide an accurate understanding of this deficiency but the mostly-empty museums all across the country is a readily visible phenomenon. In this situation, it is important that Indian museums take advantages offered by participatory activities that can bring in new visitors.
The act of taking photography is ubiquitous to all public spaces now. With the advent of the smartphone and what is being called the "mobile revolution" in India, it is near-impossible to execute a strict no-photography policy. Then, why can't museums embrace photography and use it as a tool to make it a participatory experience? For example, Virginia Museum of Fine Arts encourages visitors to take pictures with their permanent collections materials and host it on social media. A 2013 Pew Research Center report points out that 97 percent of art organizations they polled in North America reported sharing images and using social media. This allows for more online visibility, something that is crucial to revenue generation. As importantly, such participatory exercises improve museum-going experiences.
For (an anecdotal) example: you see on the left, the really bad photograph I took of my sister next to one of the Pollocks at the Art Institute of Chicago (AIC) a few years back. We took it while on a visit to the modern wing with our cousin, and my cousin and I thought she matched the Pollock painting next to her. (There could be a highly psychoanalytic discussion hiding in this photograph.) This, of course, as it always does, spawned a debate that night of whether monkeys can paint a Pollock, with my sister and I firmly on the side of Pollock's drip works. A few months later I went by AIC and bought the Pollock jigsaw puzzle as a gag-gift for my cousin, the perpetrator of anti-Pollock sentiments in the family. Now, a visit to AIC around Christmas has become a family ritual, courtesy this photograph. We have visited multiple galleries since then, have argued about our likes and dislikes, and we have come to the conclusion that only Monet prevails above all arguments.
But for a more concrete example, a presentation from the National Gallery of Denmark tells how visitors' photography and social media increased their museum's reach by 2500%. (Not kidding, that's a real statistic.)
I'll end my post here with a summary conclusion: If Indian museum administrators or people who can influence them are listening, there is no advantage to withholding photography in museums spaces anymore. In fact, such restrictions are detrimental to institutional development. However, there is one thing that museum personnel will need to take care of before letting visitors photograph their collection--dust!